WE OPTIMIZE YOUR CORPORATE WEBSITE FOR ROI
Bringing our New York City Online Revenue-Generating Expertise to Phoenix & Tucson. A smoothly functioning website is a highly efficient presales engine for your organization, helping site visitors to understand your company's products, services, or solutions, and encouraging them to take the next step as an educated, qualified lead for your business.
THE CREDIBILITY YOU MERIT TO REACH RELEVANT STAKEHOLDERS
Every company today needs an individually designed and functional professional website design which can compete against the best in the industry. Businesses should strive for not only having an online presence but also produce highly flexible and scalable business websites that display the business focus/strategy and also have the users engaged.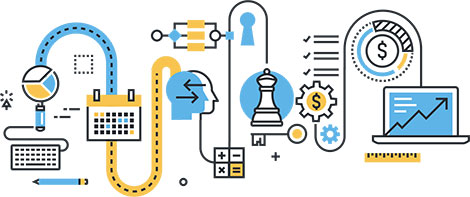 MAXIMIZING THE RETURN ON INVESTMENT
Here in Phoenix & Tucson we concentrate on maximizing our client's return on investment and creating the right brand essence in the business world. We have previously produced hundreds of functional, user-friendly corporate websites covering diverse industries such as educational organizations, financial institutions, and medical companies, etc.
Corporate Website Design & Development
Our corporate customers tell us that increasing return on investment (ROI), engaging stakeholders, and bringing corporate social accountability into account are important determinants in the decision-making process. To accomplish these goals, the majority of our corporate clients would like to:
Merge and organize data in a singular place

Streamline company processes

Integrate internal and external software systems

Run various websites from a single platform

Update security and inefficient technologies
To support our clients achieve their goals, we work with them to build their company a professional website that streamlines their job behind the scenes and simplifies their customer's path to conversion. Victory!
MAKE INFORMED DECISIONS
We don't want to invest your money on a corporate website that isn't going to last long-term or give a positive result on your bottom line.
From competitor investigation and user analysis to corporate website design and development, our full-service team will act as an extension of your organization.
The websites we design and develop here in Phoenix & Tucson are modern, professional and adaptable. They produce vital business analytics that helps run your business, entice customers, make competitors worried and impress industry leaders.