WE PROVIDE CUSTOMIZED SOFTWARE DEVELOPMENT SERVICES
Bringing our New York City Online Revenue-Generating Expertise to Phoenix & Tucson. A smoothly functioning website is a highly efficient presales engine for your organization, helping site visitors to understand your company's products, services, or solutions, and encouraging them to take the next step as an educated, qualified lead for your business.
THE CREDIBILITY YOU MERIT TO REACH RELEVANT STAKEHOLDERS
Every company today needs an individually designed and functional professional website design which can compete against the best in the industry. Businesses should strive for not only having an online presence but also produce highly flexible and scalable business websites that display the business focus/strategy and also have the users engaged.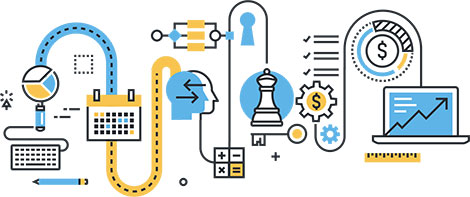 MAXIMIZING THE RETURN ON INVESTMENT
Here in Phoenix & Tucson we concentrate on maximizing our client's return on investment and creating the right brand essence in the business world. We have previously produced hundreds of functional, user-friendly corporate websites covering diverse industries such as educational organizations, financial institutions, and medical companies, etc.
Advantages with our Custom Software Development Services
Software development is a layered process of conceiving, building and maintaining a software. It includes a structured process right from its designing to the actual manifestation of a software including research, prototyping, modification, reuse, re-engineering  and other required activities.
At ROISS, we recognize the requirements of our customer and make a customised software development which will solve the complexities of a business and overall provides a perfect solution for all customer demands. Software development will need a continuous maintenance and enhancement to attain the gap between the user and the business. With changing times software development in Phoenix & Tucson is proving to be a boon as it provides solutions and increases the operational efficiency of the enterprise.
We at ROISS provides software services which includes:
Software application development:
Software application development is basically a given set of programs designed to complete a specific task as defined on the basis of business requirement. Application development process consists of various phases such as zeroing down the prototype, testing, implementation and at last integration.
Product development is a continuous process of updates and maintenance by using the latest technical tools. Product development can happen either on an entire formulation of a new product or already on an existing product. It consists of conceptualization, business analysis and prototyping the development and deployment of a complete solution.
Customised software development:
Every company is unique with its distinct requirement and no one can understand this better than us. That is the reason we have our team looking into every detail and requirement of your company and making the best customised software which fulfils your every need.
Software development is the need of an hour and every business whether big or small in Southern Arizona is getting benefitted with its amazing attributes.
MAKE INFORMED DECISIONS
We don't want to invest your money on a corporate website that isn't going to last long-term or give a positive result on your bottom line.
From competitor investigation and user analysis to corporate website design and development, our full-service team will act as an extension of your organization.
The websites we design and develop here in Phoenix & Tucson are modern, professional and adaptable. They produce vital business analytics that helps run your business, entice customers, make competitors worried and impress industry leaders.